When I was researching my book Mean People Suck, I came across many useful resources, which I reference throughout the book and in the end bibliography.
In this series, I want to explore these resources more in-depth, and explain how they helped me to uncover some of the insights that eventually led me to write the book.
Today, I'll be discussing the widely reported data by management consulting firm Gallup, which explores a trend towards increasing employee engagement in the US.
Quick Takeaways
The most recent research suggests that employee engagement levels in US organizations are improving. But not much!
There may be several factors behind this, but a main one is that businesses are focusing more on building a positive workplace culture and supportive management.
Employee engagement is still a crisis and it's an important factor we need to continue to focus on. Life's too short to be miserable at work.
Gallup Reports Employee Engagement is On the Rise (Slightly)
If you do any online research about employee engagement, you'll find that many articles reference Gallup's earlier research from 2013, which uncovered an epidemic of disengaged employees, and the startling statistic that only 31% of employees worldwide are actively engaged at work.
It seems that some US businesses at least took this warning seriously, making changes in their approach to employee engagement and their corporate culture as a whole.
Just a few years later, the updated research shows that the picture is getting a little better. Gallup's last report shows that the national engagement figure now falls at 34% – and is in fact, the highest since it started reporting the data in 2000.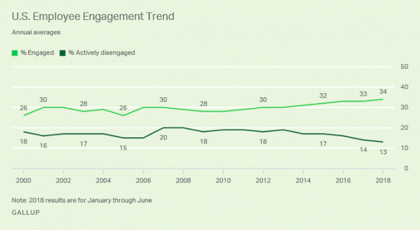 Explaining the Data
While this all sounds very optimistic, the real picture shows that the large majority of employees are still highly unengaged. Disengaged. Not engaged. And while we should celebrate the increase from 26% to 34%, this trend mirrors many employment and economic trends.
The main point: the large majority of employees and not engaged: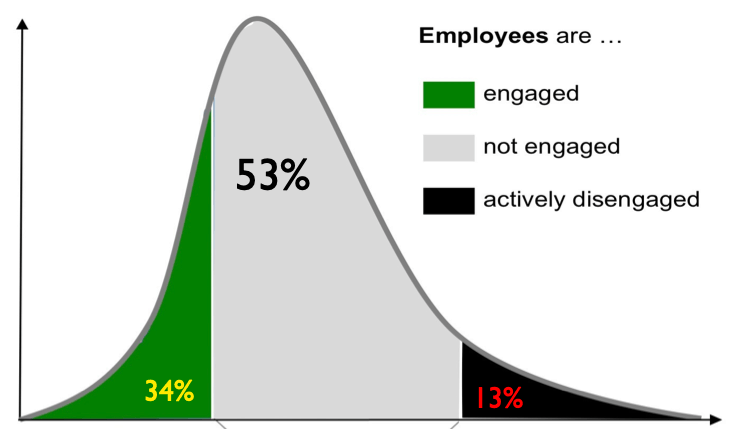 Between January and June 2018, Gallup surveyed a random sample of 30,628 US adults working full or part time, asking them questions to assess their level of engagement at work.
Engaged employees are defined as those who are "involved in, enthusiastic about and committed to their work and workplace."
Gallup measures engagement by recording their responses to 12 key questions that have proven links to organizational performance outcomes, including productivity, customer service, quality, retention, safety, and profit.
These questions are:
Do you know what is expected of you at work?
Do you have the materials and equipment to do your work right?
At work, do you have the opportunity to do what you do best every day?
In the last seven days, have you received recognition or praise for doing good work?
Does your supervisor, or someone at work, seem to care about you as a person?
Is there someone at work who encourages your development?
At work, do your opinions seem to count?
Does the mission/purpose of your company make you feel your job is important?
Are your associates (fellow employees) committed to doing quality work?
Do you have a best friend at work?
In the last six months, has someone at work talked to you about your progress?
In the last year, have you had opportunities to learn and grow?
Employees answer these questions on a scale of 1 to 5, depending on how strongly they agree or disagree with each statement.
The scores from the survey are used to measure the overall level of engagement of each employee, and they are then categorized into three groups depending on their engagement level:
Actively disengaged – very negative experience of work, and may jeopardize their team's performance
Not engaged – do the minimum that is required of them, and do not have any connection or loyalty to their workplace – they will quickly leave if given a better offer.
Engaged – enthusiastic and actively involved in their work and workplace.
So what can we learn from the improvement in engagement over the last few years?
Breaking Down The Levers of Employee Engagement
Gallup identifies several possible reasons behind the overall improvement in employee engagement for US businesses over the last decade.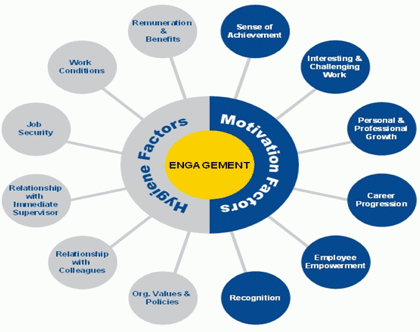 Image source: https://www.managementstudyguide.com/hygiene-and-motivation-factors-for-employee-engagement.htm
Improvements in the nation's economy over the last few years means that workers have a greater choice about the jobs that they do and who they work for. This gives them greater confidence, and the option of moving to a different company if they find themselves working for an organization that doesn't fit or offers poor working conditions.
Gallup's workplace trends report also shows that job security levels have increased over the last few years, and an increased percentage of people agreeing that now is a good time to look for a new job.
This is great news for employees and it means that employers have to work harder to attract and keep the best talent.
Takeaway: Providing a great environment and culture for employees is something that every business should be focusing on now and in the future.
Gallup also notes that its workplace trends report shows a slight increase in satisfaction levels surrounding benefits such as pay, flexible working hours, retirement plans, and vacation hours. While all this things are aspects of a great work package, it points out that benefits alone aren't enough to improve employee engagement in the long term.
What does have a bigger long term impact on overall engagement levels is increased satisfaction levels regarding workplace recognition and relationships.
It seems that supportive managers and team leaders in particular (or in other words, influential people who aren't mean!) can have a significant positive impact on workplace engagement levels.
The report ends by summarizing that the workplaces achieving the highest level of employee engagement had invested in building a positive corporate culture and training their team leaders in management techniques focused on development and strengths. Some of these organizations more than tripled their engagement levels.
Mean People Really Do Suck!
So what can you take away from this research? In the book, I talk about how a negative work culture will lead to low engagement levels, and ultimately lower profits and performance.
My aim with writing Mean People Suck is to break this cycle of disengagement by educating leaders and employees how they can use empathy to diffuse the "mean" in every situation and learn how to build better relationships at work through improved communication and understanding.
So what do you think? Please consider picking up your copy of Mean People Suck today, and get the bonus visual companion guide as well. Or check out our services to help evolve your culture. And I would be thrilled to come present to your team on the power of empathy.