In chapter four of Mean People Suck, I talk about the link between empathy and sales. Because digital technologies have disrupted the way we do business and customers have developed a distrust of brands, traditional advertising has lost its effectiveness.
The growth of the internet has altered the customer journey significantly. I was particularly struck by this research by Salesforce that found that 90 percent of the buyer's journey is completed before they even contact a sales rep.
In other words, the increased availability of information online has practically made salespeople almost obsolete! It's no longer the job of the sales team to contact leads and convince them to make a sale – by the time a lead makes contact, their mind is mostly made up. The sales team may be responsible for closing that sale, but they can no longer take the credit for it. Other factors such as brand reputation and online reviews influence buying decisions far more than the skills of a particular salesperson.
So now that buyers are in control of their own research, the way to succeed in making more sales is to ensure there is plenty of accurate, helpful information about your products and services available, building a positive brand reputation, and engaging with your audience in an authentic way.
Flashy advertising and convincing salespeople are no longer sufficient and in fact, may well have the opposite effect. The businesses of today must rely less on promotion and focus on building a real connection with their customers as well as great products.
Quick Takeaways:
The buyer journey has changed. Today's buyers are self-educating and less receptive to traditional marketing.
Marketers need to engage with these buyers earlier in their journey by increasing brand awareness and creating helpful content to help them research.
The power of empathy can help you create better content that solves your customers' problems, building brand trust, and authority.
The New Buyer Journey
The buyer's journey has changed significantly in the last couple of decades. Sales funnels are no longer a linear process where you collect a bunch of leads at the start and neatly spit out sales at the end.
Today's buyers are expert researchers. They know how to educate themselves about products and services, and they don't wait around for companies to reach them.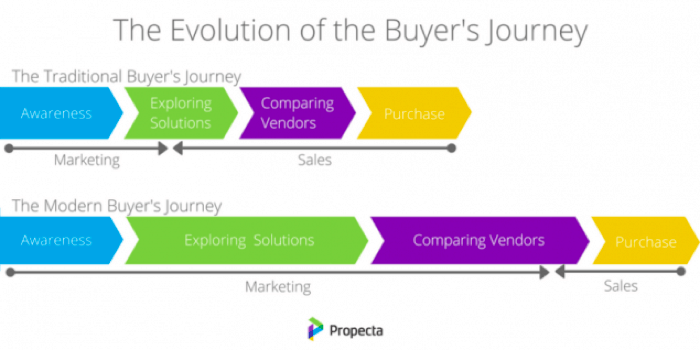 To succeed in marketing in the modern world, it's essential to connect with these potential buyers early in their research phase, so they're aware of your products and services and how they can solve the customers' problems.
After initial research, buyers will compare offerings from different businesses and look for online reviews, recommendations, brand reputation, and other information both off and online to assist them in their decision.
It's not until the final stage in the buyer journey that they will actively reach out for more information. This stage is critical for making the sale, but the groundwork must be done first to engage with the customer earlier if you're going to have any chance of reaching this final stage.
Today's brands must find ways to attract attention so that potential buyers are aware of them and their products, create helpful content that assists them in their research phase and nurture leads that have shown an interest in a personal and authentic way.
Using Empathy to Connect with Your Audience
Content marketing can be a highly effective way to engage your audience while they're in the research phase of their buying journey, but many marketers do not approach content creation in an optimal way.
Many marketers are still falling in the trap of creating overly promotional content, forgetting that the aim of successful marketing in this day and age is not to promote but to educate.
Your audience doesn't want to be sold to. They probably don't want to buy anything from you right now, but they may do in the future. What they do want is a solution to their problem. If you can be the one to provide that solution, you're being useful, building trust, and proving that your business has something valuable to offer.
If you haven't figured it out yet, the key to creating this kind of content is empathy. Empathetic content marketing means understanding what sort of problems your customers are facing, figuring out how you can help them to solve these problems, and creating content that leads them to these solutions.
The more time you spend helping your audience, helping them to overcome their challenges and reduce their frustrations, the more they'll want to engage with you. With increased engagement comes a better relationship between business and potential customer, and a greater chance of making a sale.
Importantly, sales that come from this kind of empathetic marketing are much more likely to be repeat sales than those that come from traditional advertising. Crack the empathy code, and you could find yourself a loyal customer (or more) for life.
How to Create Content that Solves Your Customers' Problems
So how exactly do you create this kind of content? It starts by putting yourself in your customers' shoes. Sit on their side of the table and consider what they need from you – how can you be of service?
Some things you can do to assist you in creating empathetic content include:
Create customer personas to really understand your customers, their wants, their needs, their problems, and their motivations.
Find out what people are asking search engines. Basic keyword research will give you an insight into the questions people are asking online. Then all you have to do is provide the answers.
Ask your customers how you can help them. There's nothing wrong with asking your audience what sort of content they'd find valuable. Pay attention to comments on your blog and social media pages, too.
So what do you think? Please consider picking up your copy of Mean People Suck today, and get the bonus visual companion guide as well. Or check out our services to help evolve your culture. And I would be thrilled to come present to your team on the power of empathy!